Call center metrics are data points your provider collects to help you understand your business' call center performance. These metrics could be around customer satisfaction, agent turnover, and call abandonment. Whether your call center is primarily customer service or sales operations, its effectiveness can ultimately be measured by looking at a few critical call center metrics, or key performance indicators (KPIs).
By tracking these metrics toward industry-standard call center KPIs, you can ensure your business manages inbound and outbound communications with top-notch efficiency.
How Call Center Metrics Are Calculated
Each of your call center metrics is calculated through a specific formula and algorithm. For example, your overall customer satisfaction is calculated by dividing the number of happy customers by the total number of surveyed customers.
Some call center platforms can deliver deeper insights. For example, RingCentral goes above and beyond to provide a wide range of analytics and reporting tools, helping you better monitor customer experience and agent performance. Other providers require you to build your own complex solutions to collect actionable data.
9 Most Important Call Center Metrics & KPIs
To improve customer experience and achieve business goals faster, these are the nine most-essential call center metrics to look out for:
Overall customer satisfaction (CSAT)
Average handle time (AHT)
First call resolution (FCR)
Average speed to answer (ASA)
Call abandonment rate
Service level
Transfer rate
Call volume trends
Agent turnover rate
Below, we'll walk you through each of these call center metrics in more detail. We'll help you understand industry average call center KPIs and how you can use this data to improve agent productivity.
1. Overall Customer Satisfaction (CSAT)
Customer satisfaction (CSAT) is arguably the single most crucial call center KPI. This metric measures how your customers feel about your service. According to a survey of 350 professionals, 93.1% of workers believe that CSAT is the most important overall data point for understanding their department's success.
CSAT is also one of the easiest metrics to calculate. You can send your customers a follow-up survey via text or email to gather responses. Then, you'll use a simple equation to calculate your score: the number of happy customers divided by total customers surveyed.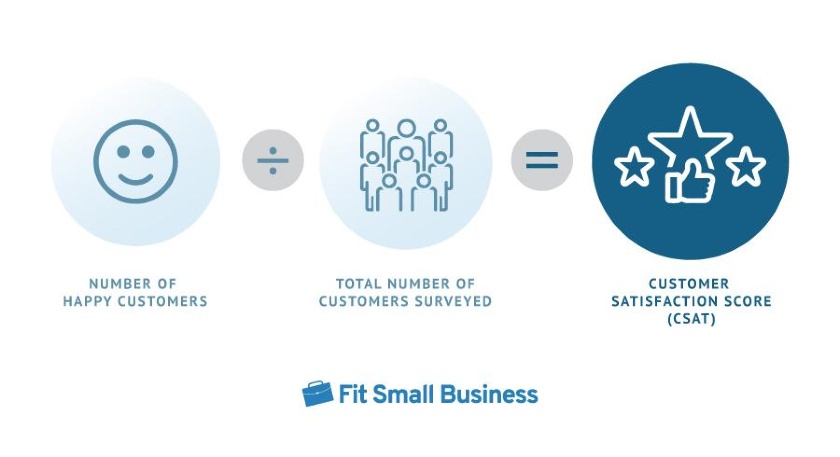 There's no "magic number" for how high your CSAT score should be. Ultimately, your team should use this number to track benchmarks and progression. Ideally, your CSAT would always be 100%—if it's not, then you should be looking at what you can do to bump up your score. Ask yourself: "Why is my CSAT only a 95 this month? What can I do to raise it to a 96 or 97 next time?" Then, from there, try to improve continually.
2. Average Handle Time (AHT)
Average handle time (AHT) measures the total span of time from the agent answering a call until the ticket is entirely completed. This includes everything from small talk to basic housekeeping items to satisfying the caller's request.
Call center phone systems automatically track AHT by monitoring when a call is answered and when the ticket is closed. Most organizations shoot for an overall AHT of about six minutes per call, but there's a bit of controversy around this metric.
The quicker your agents can satisfy a call, the faster they can move on to resolving the next customer's issue. However, quality always trumps quantity. While it's important to aim for speed and efficiency, it's more important to prioritize the caller experience, regardless if that takes five minutes or 30 minutes.
Still, tracking your AHT can reveal important insights about your inbound call experiences. If you have a high AHT and low CSAT, consider improving your processes to speed up the calls—this may lead to happier customers. However, if you have a high AHT and a high CSAT, you might not need to change anything.
3. First Call Resolution (FCR)
First call resolution (FCR) refers to your team's ability to resolve a customer's problems the first time they call. Customers want their issues solved quickly, and they don't want to spend the day (or multiple days) playing phone tag with your call center agents. They preferably want to call your team once and have their problem fixed without hanging up, redialing, or being transferred.
You can gather FCR data by asking in a follow-up survey how many calls it took to resolve the problem, or you can use customer data to see how frequently a customer called about the same incident before it was marked as resolved.
The higher your FCR, the better. There's no golden standard, but your call center should always be pushing toward 100% of customer problems being resolved during the first call.
4. Average Speed to Answer (ASA)
Average speed to answer (ASA) is a metric measuring the length of time it takes for agents to answer calls. Customers don't want to wait in long queues to get in touch with an agent. You can calculate your ASA by dividing the total waiting time for answered calls by the total number of answered calls.
According to Call Centre Helper, the overall global average ASA is about 28 seconds, with 80% of calls being answered within 20 seconds. A high ASA could be the direct result of a high average handle time, indicating your agents are spending too much time helping single customers. However, it may also mean your call center is understaffed and needs additional headcount.
5. Call Abandonment Rate
The call abandonment rate calculates the percentage of inbound calls dropped by the caller, and it's often associated with your ASA. If a customer is on hold too long, they're more likely to hang up before an agent has time to respond. High abandonment rates are a negative KPI, as it indicates an inefficient contact center setup.
Calculate your total call abandonment rate by dividing the number of abandoned calls by the total number of inbound calls. An abandonment rate between 5% and 8% is considered acceptable, unless your call center handles technical support. In the case of technical support, any rate higher than 5% indicates a serious problem, and according to Call Centre Helper, you should aim for a rate of 2% or lower.
6. Service Level
Service level refers to the accessibility of your company in relation to your ability to accommodate call volume fluctuations based on time, day, and season.
Calculate your service level by looking at the percentage of your answered calls within a defined period of time—this period could be anywhere from 30 minutes to an hour to an entire month.
Your service level score is most useful when generated frequently for a more apples-to-apples comparison. For example, you might generate a service level score for your team's performance on Mondays or during the busy shopping months of November and December.
This metric is great for gauging your team's maximum workloads at different points in time. Used together with your call abandonment rate and ASA, you can identify your call center's efficiency at connecting with customers and resolving issues.
7. Transfer Rate
Transfer rate is an important cell center KPI that measures the total percentage of calls that an agent transfers to another employee who's better equipped to address the caller's concerns. It's hard to determine whether you want a low rate or a high rate for this KPI.
Depending on your industry and transfer efficiency, a higher transfer rate could indicate you're getting callers to the right person. On the other hand, they could indicate your initial response team isn't adequately prepared to handle customer concerns.
If your agents are transferring incoming calls often, you may want to consider training your staff to handle a wider variety of situations. You may also want to implement better call routing features to connect callers directly with the most knowledgeable person.
Pro tip: There are many business phone systems on the market, including RingCentral, that can automatically route all of your incoming calls based on time, day, call volume, and agent availability.
8. Call Volume Trends
Call volume trend is the total measure of call volumes by day, week, or month compared to your average speed to answer. This call center KPI helps you identify specific times when incoming calls are highest. You can then use these findings to make better scheduling and hiring decisions.
For example, you could look at your call volume trends to find out that Wednesdays and Thursdays are the busiest days at your call center. With this information, you could schedule your agents' shifts to meet this demand. You could also use this on a monthly level. For example, many companies find themselves busiest around the holiday season and may need to hire seasonal help.
The more agents you have during the busiest times, the lower your response time will be. Lower response times lead to more satisfied customers, which means your CSAT score will go up.
9. Agent Turnover Rate
Agent turnover rates measure the percentage of employees who leave your call center during a certain period of time. While your agents are focused on improving AHT and ASA, your management needs to prioritize your agents' happiness, energy levels, and work-life balance.
Call centers experience roughly double the turnover rate of all occupations in the United States, and that's often due to the pressure to perform at a top level, day in and day out. To reduce your agent turnover rate, you may need to hire extra help or set more realistic call center KPIs.
Happier agents don't just result in a lower agent turnover rate—they also lead to higher customer satisfaction. Experienced agents who've been with your business longer will be better equipped to more quickly and efficiently solve customer issues. High turnover rates mean less trained candidates will be handling more of your customer interactions.
Bottom Line
Your contact center is one of the most important parts of your business—don't let it go neglected. Set KPIs and monitor these call center metrics to gain a better understanding of your team's efficiency. Once you've established baseline numbers, you can start setting goals for improvement. Remember to develop realistic goals and implement change slowly to maintain a low agent turnover rate.
Need help collecting data for these call center KPIs? Check out RingCentral, a leading business communication platform that collects comprehensive call center statistics and displays them in easy-to-understand dashboards.