Customer relationship management (CRM) tools are essential for managing relationships, collaborating with your team, and closing deals. The most forward-thinking CRM companies now integrate artificial intelligence (AI) into their software. The combination of CRM and AI uses machine learning to sift through massive amounts of data to help you better understand and qualify prospects, automate lead nurturing, and close deals more efficiently.
Here are seven ways CRM software providers are combining CRM and AI tools to improve the sales process of small businesses:
1. CRM & IA Makes Data Compilation & Organization More Efficient
As any seasoned sales manager will tell you, inputting manual information into a CRM takes up valuable time and is a significant barrier to CRM adoption. Plus, salespeople only spend about 30% of their day on selling activities, in part because they spend hours doing things that could be automated, like manual data entry and paperwork. AI uses powerful technology to automate manual tasks so salespeople can get back to doing what they do best—selling.
Real-world example: With AI, reps can spend more time nurturing relationships and closing deals. For example, the Salesforce CRM has an AI feature called "Einstein Activity Capture" that records emails and events with each prospect, automatically organizes them into a timeline, and puts them on your calendar.
Additionally, CRMs like HubSpot use AI to automatically detect and consolidate duplicate contact records each time you upload a new contact list. This eliminates the need for your reps to manually check lists before adding a new contact or to manually remove duplicate records.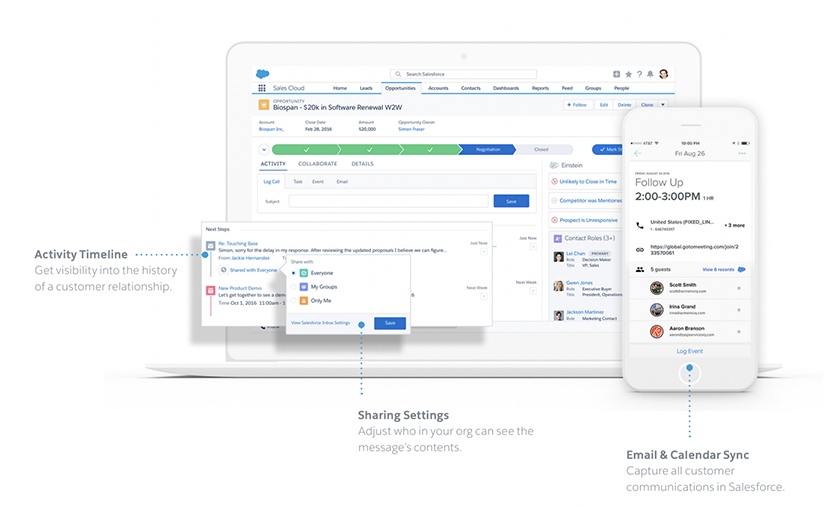 2. Enhanced Lead Scoring
Sales teams are a whopping 33% more likely to prioritize leads based on accurate data than intuition. However, many sales management leaders find it challenging to create an accurate lead scoring model.
Common lead scoring data-related factors include things like buying signals, job title, budget, industry, company size, and geography. AI can help by using your existing CRM data, behavioral insights, demographic data, marketing indicators, and buying decisions from your past closed deals to develop real-time scoring rates for your current leads.
Only 46% of salespeople have access to information about prospects' intent to make buying decisions based on accurate data, but AI can make it more accessible. This helps your team hone in on which deals to focus on closing to lead them further down the sales funnel.
Real-world example: Vodafone automated lead scoring in their CRM with Anaplan's AI-powered software to save time in the sales process. By integrating Anaplan with their CRM to gain data-driven sales insights, they cut their planning time from three months to six weeks.
Integrating your CRM and AI software like Anaplan delivers predictive insights. Not only does this enable your team to see which opportunities are likely to close, but it also allows you to create more reliable sales forecasts and optimize your sales territories and quotas.
3. Improved Customer Insights
To earn customer trust and move leads through the sales process, you have to understand them. Furthermore, when you have a high volume of leads in your CRM sales pipeline, it's harder and more time-consuming to research and understand each one individually. This could be one reason why only 8% of people trust salespeople.
That being said, 47% of customers want to feel their salesperson is trustworthy, 44% value responsiveness, and 40% expect a sales rep to be an expert in their field. Many CRMs now use AI to uncover valuable information about prospective customers by using machine learning to analyze large amounts of data that help reps uncover their business needs, craft personalized communications, and share relevant content.
Real-world example: Freshsales developed an AI assistant named Freddy to unlock insights about each prospect. It learns from the data in your CRM to create predictions, insights, and recommendations to help you make decisions on how you communicate with each lead.
It also recognizes patterns that help you engage customers and forecast revenue backed by data. Plus, Freddy offers automated chat conversations on your website to help users find the right answers to their questions without taking up valuable time from your sales and support team.
4. More Robust Sales Conversations
Most salespeople have some kind of sales training for talking with prospects over the phone, but now AI can deliver coaching and insights by eavesdropping on sales conversations. This type of technology teaches reps how to be more empathic, recognize social cues, know when to slow down the rate of speech, or when to give the prospect room to talk.
Real-world example: Cogito developed a product that integrates with CRMs. It examines speaking patterns to improve your reps ability to speak to prospects and customers with empathy and confidence using live call monitoring. The technology is based on millions of analyzed phone conversations and natural language processing (NLP) to help reps improve sales conversations and guide managers on how to provide effective coaching.
5. Better Sales Follow-up
Many sales reps rely heavily on email templates to reply to a high volume of emails and messages, or emails with commonly asked questions or concerns. However, now an AI-powered assistant can help with follow-up tasks. This unique technology employs a human-like bot to follow up with prospects and even cross-sell appropriate products.
Sales organizations are rapidly implementing this type of technology to engage leads, reduce churn rates, and improve close rates. For example, CenturyLink reported they experienced a 20-fold return on investment (ROI) when integrating virtual assistant AI technology into its sales process.
Real-world example: Conversica's conversational AI sales tools enable sales teams to automatically respond to qualified leads with personalized messages via email and text message. It can even respond in multiple languages.
The technology gathers updated contact information and alerts reps to follow up, then automatically updates the information in your CRM. It can also be used to reach out to leads before events (e.g., webinars), engage inactive prospects and lapsed customers, or follow up with participants after events like trade shows and conferences.
6. Automated Transcription & Sales Call Analysis
As a salesperson, one of the biggest challenges I faced was trying to take notes and actively listen to the prospective customer at the same time. Furthermore, I'd try to remember as much as I could about a conversation and quickly put my notes into my CRM before I forgot, or before my next scheduled demo, often only minutes later. But doing this manually is time-consuming and prone to human error, and details can be easily forgotten when they aren't recorded.
Just like AI can analyze phone calls to improve emotional intelligence, it also helps your sales teams transcribe and analyze meetings by recording them and providing insights on the back-end. AI technology can capture time-stamped notes, highlight specific references potential customers make, and churn out data about remarks to next steps, budget, and decision-makers.
Real-world example: AI-fueled software like Chorus.ai helps sales reps by recording and analyzing calls and integrating them with your current CRM software, so you don't have to remember every detail—the power of AI does it for you. You can uncover things like competitors mentioned, key topics, features requests, your talk-to-listen ratio, and filler words used—even from multiple speakers.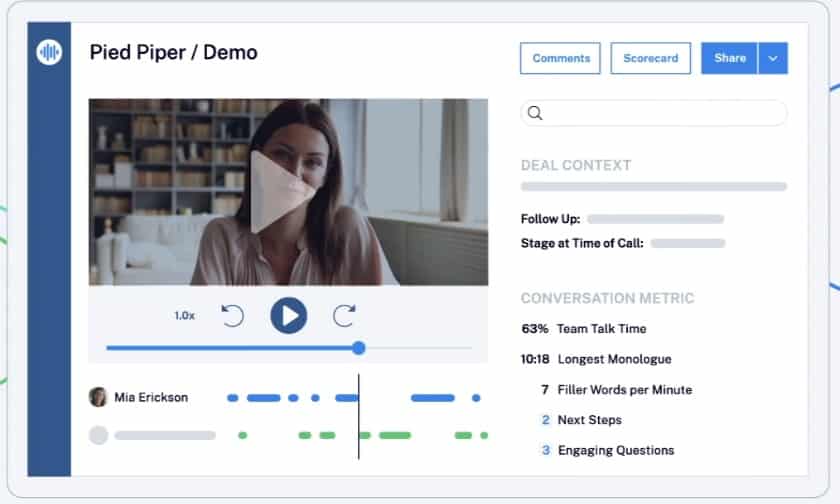 7. Combine Your CRM & AI to Improve Customer Service
Nearly everyone has experienced the frustration of talking to a bot and not getting the answer they need, regardless of your industry. However, many CRM providers increasingly use AI technology to create bots that provide timely, accurate answers that don't require manually mining through data, saving valuable time.
Real-world example: Zoho CRM and AI work hand in hand with a feature called Zia. Sales managers can ask Zia a question like "Show me a list of deals closing this month" and Zia compiles data from the CRM to instantly provide an automated list of deals. You can also use Zia to find information from other CRM features, such as where your leads are coming from, and get an instant response, even generating an easy-to-read, visual graph.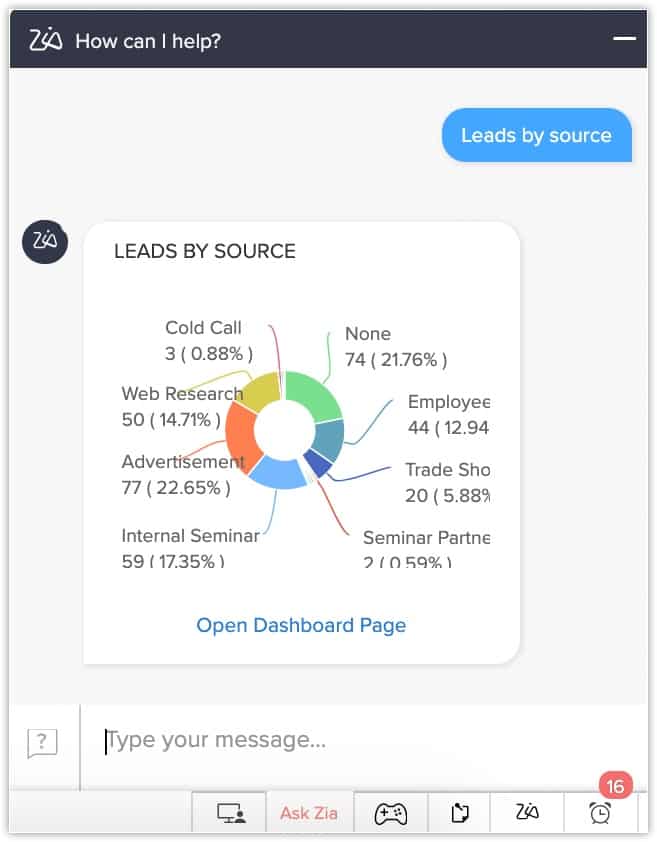 Bottom Line
The CRM market grew to a $56.5 billion industry in recent years and shows no signs of slowing down. In fact, Salesforce reported that businesses are planning to increase their use of AI by 47% and CRMs by 40%. Plus, the COVID-19 pandemic changed the way sales teams operate and made it vital for businesses to consider new strategies for reaching customers and managing sales in our digital landscape.
While some salespeople worry CRMs and AI could take over their jobs, it's not the case. AI is tremendously helpful in automating processes and uncovering insights, but it can't replace human relationships. CRM intelligence is making strides as sales teams adopt it to save time and improve data accuracy. This allows them to spend more time cultivating personal relationships with customers, moving leads through the sales funnel, and closing more deals.