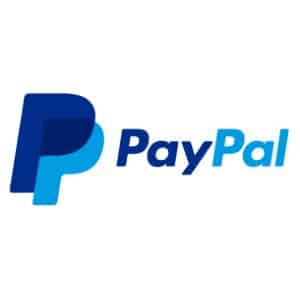 What We Recommend PayPal Business For
In our evaluation of the best merchant services for small businesses, PayPal earned a 4.02 out of 5. It's a user-friendly platform for businesses and customers alike with a flat, predictable pricing model. For online sales, PayPal offers decent developer tools, lots of integrations, and international payment options. One of the biggest drawbacks to using PayPal is the potential to have your funds frozen or withheld, along with difficulty in getting quality customer support.
Specifically, we recommend PayPal Business for:
Looking for PayPal's point-of-sale (POS) solution? Check out our review of PayPal Zettle. In general, we recommend PayPal for processing occasional in-person payments (like for events, pop-ups, and markets) or as a backup payment solution. It's one of the best mobile payment processors.
When PayPal Business Would Not Be a Good Fit
PayPal Business Overview
PROS

CONS

Seamless online checkout integration
Inexplicable and unpredictable freezing of funds
Known and trusted platform by consumers
$20 chargeback fee
Strong invoicing features
Confusing pricing
Instant deposits into your PayPal account
Few POS features and benefits
Discounted processing fees for nonprofits
No offline payment processing
PayPal has a simple and straightforward application and setup process, especially when compared to other payment processing options. All you have to do is sign up, connect your business account, and start accepting payments.
PayPal Business Pricing
PayPal offers a variety of ways to accept payments, from simple commercial transactions to POS payments. For more detailed information on PayPal fees, refer to the table below.
Commercial Transaction Rates
Used for: Accepting payments for goods and services from a customer's PayPal account using various PayPal options—including Pay Later, Pay with Rewards, Crypto, and Venmo—and alternative payment methods (APM) such as Apple Pay.
| | Monthly Fees | Local Transaction Rates | Add-on for International Transactions |
| --- | --- | --- | --- |
| Standard Debit/Credit Card Payments | $0 | 2.99% + 49 cents | 1.50% |
| PayPal Checkout/Guest Checkout | $0 | 3.49% + 49 cents | 1.50% |
| Invoicing | $0 | 3.49% + 49 cents | 1.50% |
| Venmo | $0 | 3.49% + 49 cents | 1.50% |
| QR code – $10.00 and below | $0 | 2.40% + 5 cents | 1.50% |
| QR code – $10.01 and above | $0 | 1.90% + 10 cents | 1.50% |
| Apple Pay | $0 | 2.59% + 49 cents | 1.50% |
Payflow Pro (Payment Gateway)
Used for: Accepting payments through a templated (Payflow Link) or customized (Payflow Pro) checkout page.
Gateway Monthly Fees

Recurring Billing Monthly Fees

Transaction Fees

Fraud Protection Services Monthly Fees

Payflow Pro Gateway

$25

$10

10 cents

Basic: $0

Advanced: $10 + 5 cents in excess of monthly transaction fee

Buyer Authentication+: $10 + 10 cents in excess of monthly transaction fee

Payflow Link Gateway

$0

$10

10 cents
PayPal Zettle
Used for: Accepting in-person transactions through PayPal Zettle.
Monthly Fee

Local Transaction Rates

Add-on Fee for International Transactions

Monthly Processing Volume Limit

Card present





$0

2.29% + 9 cents

None





None

Keyed-in

3.49% + 9 cents

None

QR code

2.29% + 9 cents

None
Additional or Other Fees
Chargeback fees: $20 for transactions not processed through a buyer's PayPal account or through guest checkout.
Dispute fees: $15 Standard or $30 for high volume transactions.
E-check fees: 3.49% capped at $300
Instant withdrawal of funds to linked card or bank account: 1.50% of the amount transferred
Businesses that process payments less than $10 can apply for micropayment rates. The rates are applied to all commercial transactions and start at 4.99% + 9 cents per local transaction and an additional 1.50% for international transactions.
Custom Plans
PayPal doesn't offer custom plans—only discounted pricing for nonprofit organizations. If you want lower rates or a custom plan, consider using Braintree, PayPal's online payment solution geared toward higher-volume businesses. Read our Braintree review for more details.
Contract Length & Early Terminations
PayPal doesn't require any contracts for its services, so there are no cancellation or early termination fees.
PayPal Business Alternatives & Fees Comparison
| | Stax by Fattmerchant | Square | Payment Depot |
| --- | --- | --- | --- |
| Best for | Invoicing and recurring billing for growing businesses | New and small businesses, occasional sales | Cheapest credit card processing for established businesses |
| Monthly fees | Starts at $99/month | Starts at $0/month | Starts at $59/month |
| Card-present transaction fees | Interchange + 8 cents | 2.6% + 10 cents | Interchange + 8 cents |
| Keyed transaction fees | Interchange + 15 cents | 3.5% + 15 cents | Interchange + 15 cents |
| Ecommerce transaction fees | Interchange + 15 cents | 2.9% + 30 cents | Interchange + 15 cents |
| | | | |
Read more about the best alternatives to PayPal.
Looking for the lowest rates? The payment processing rates you will pay can vary based on your business size, type, and average order value. To find the most affordable option for you and compare multiple processing rates, read our guide on the cheapest credit card processing.
PayPal Business Features
PayPal is now more than just sending and receiving card payments. It has launched a number of additional features that allow users to have more ways to exchange funds, which includes accepting crypto currencies and collecting payments via QR codes. PayPal has also developed new social selling tools that enable users to sell through Facebook and Twitter.
Accept Payments Online
PayPal Business supports credit cards, debit cards, ACH bank transfers, and Venmo. You can also offer recurring payments and buy now/pay later options to your customers.
PayPal Checkout
The PayPal checkout provides you with simple tools to integrate with your product, cart, and payment pages. This way, you give customers a variety of PayPal payment options that are secure and flexible and well trusted by many, increasing chances of conversion. Choose an integration format that presents the most relevant payment type to your customers, depending on your business needs.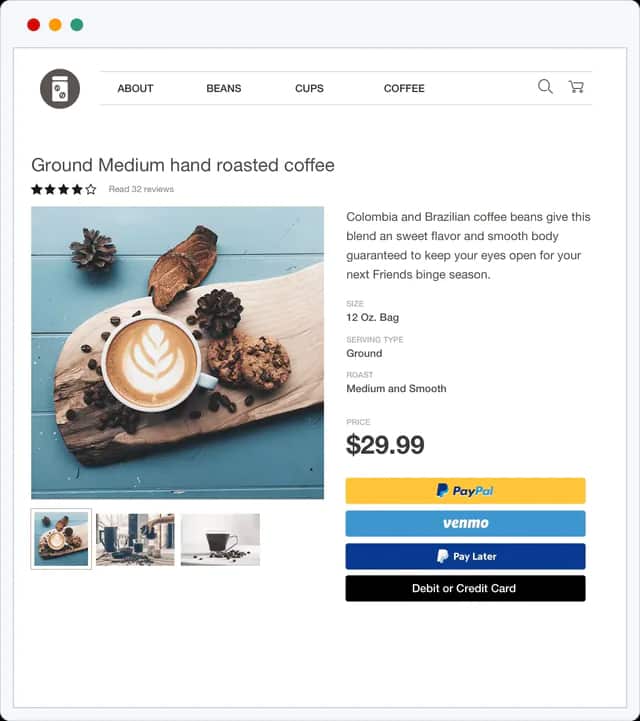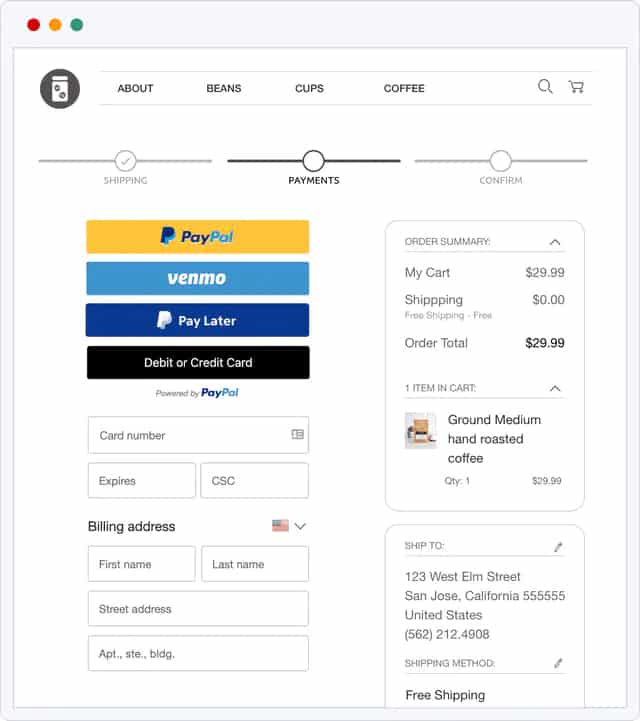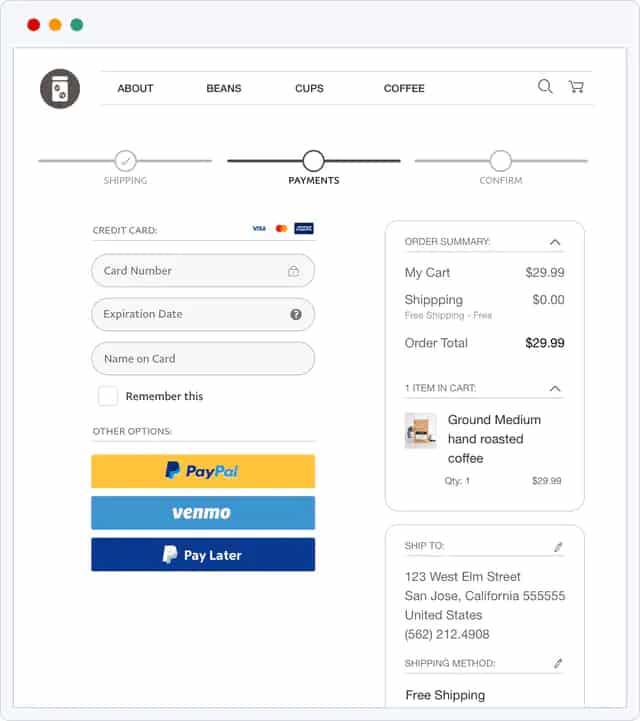 Invoice Generation
Create and customize digital invoices with PayPal's invoicing tools for small businesses. You can access this feature on any device, customize your templates to fit every customer, and send the invoice through email or with a sharable link. You can also track unpaid invoices and send reminders from any device via your PayPal Business App.
Recurring Payments & Subscriptions
PayPal allows you to create scheduled or recurring invoices that can be delivered automatically at regular intervals. Subscription tools enable you to design flexible subscription plans such as fixed or quantity pricing, add discounted trial periods, and manage your subscriptions from a central dashboard. You also get real-time reports and updates from the dashboard.
Buy Now, Pay Later Options
PayPal has partnered with a number of brands to offer PayPal Pay Later plans. This customer financing exclusive gives your customers the option between paying in four interest-free installments or with PayPal Credit, both appearing on your PayPal checkout page. What's great about this setup is that you also get paid upfront while your customers pay later.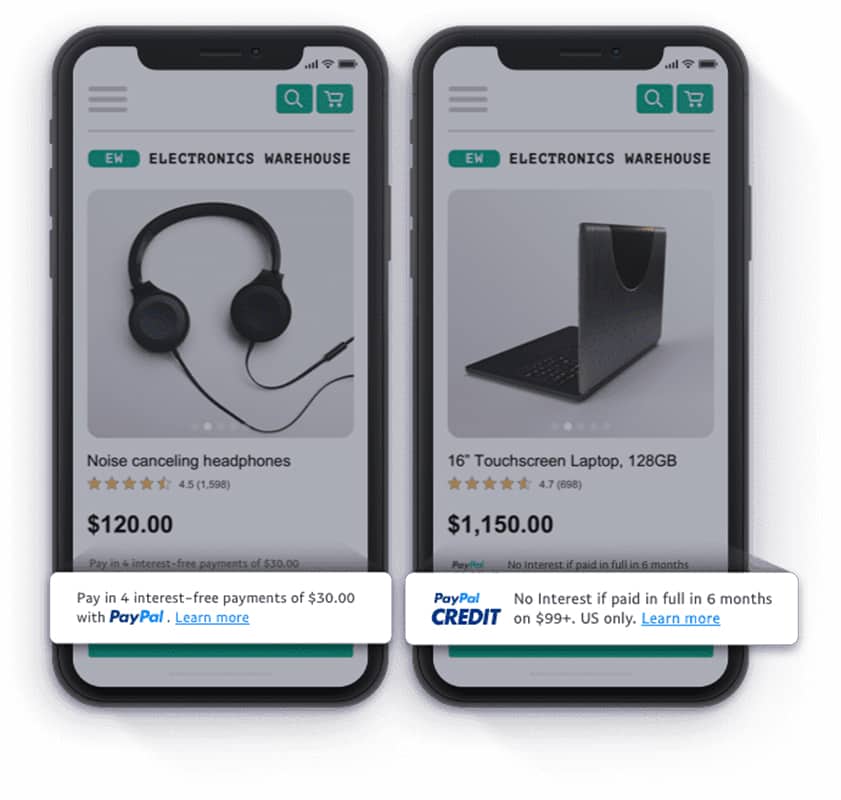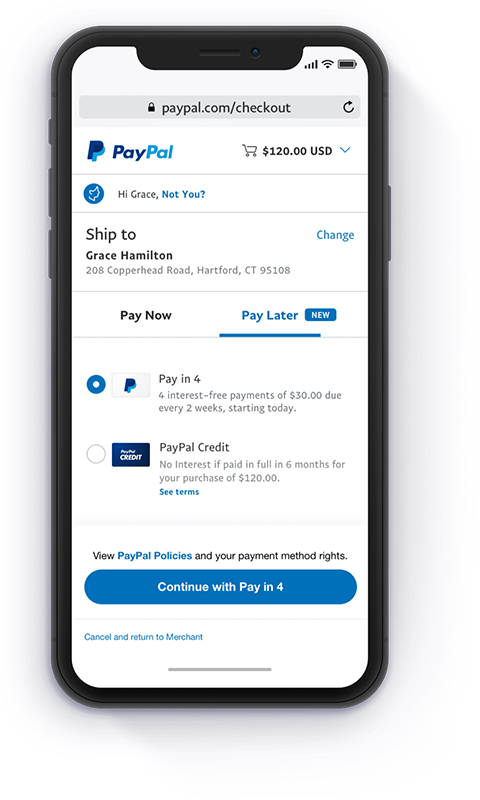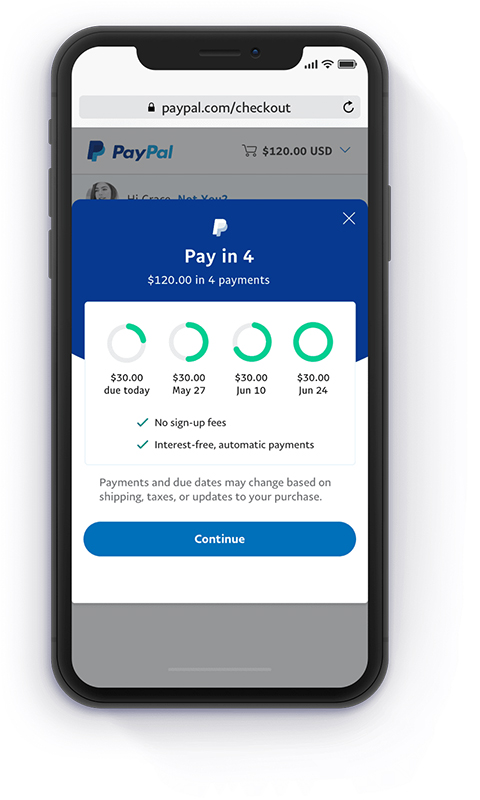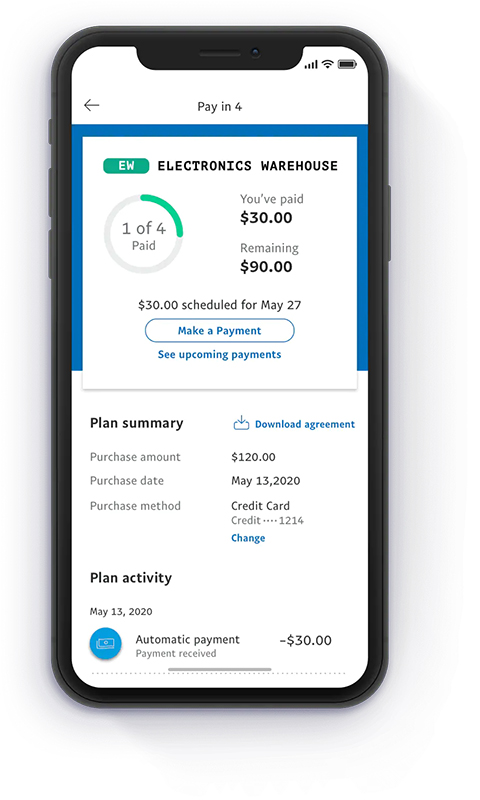 Social Selling Tools
Connect PayPal Business to Facebook and Instagram and make your offerings available for purchase to social media users. PayPal hosts your listings, so you can create and share this on social media using a sharable link, without the need for an ecommerce platform.
Go to the "Sell on Social Dashboard" page to add your product details, including shipping and tax rates, then click the create button to produce a payment link. The next step will give you the option to click on the Facebook or Twitter icons to share your product listing automatically.
Accept Payments In-Person
Point-of-Sale
In 2018, PayPal acquired European POS software Zettle and began offering its features to US-based businesses in July of 2021 as an eventual replacement for PayPal Here. This gives PayPal the ability to process in-person payments in brick-and-mortar locations using tablets or on-the-go with mobile card readers attached to a smartphone.
For more information on PayPal's mobile, in-person payment option, read our PayPal Zettle review.
---
QR Codes
PayPal lets you create a unique QR code for your business, so you can take in-person payments quickly and securely. Share your QR code with your customers through your PayPal app or have it printed and placed strategically around your store or even on your products. You can even add a tipping option in the app.
---
Risk Management
Dispute Resolution
PayPal assists its users in resolving disputes over payment transactions with its own set of management tools. It provides you with a messaging and notification function, along with the ability to upload supporting documents and a platform for appealing a resolution against your favor. It is important to note, however, that your funds are put indefinitely on hold until the dispute is resolved.
---
Seller Protection
PayPal offers a seller protection program against claims and chargebacks for its business account holders. It will not charge your PayPal balance for "Items not received" or "unauthorized transactions" raised by your customers through PayPal—as long as your physical goods are sold and shipped with proof of delivery or your intangible goods are supported with evidence of delivery or order fulfillment.
You can find more information on seller protection when you visit PayPal's website.
---
Chargeback Protection
PayPal Business accounts enrolled in Advanced Credit and Debit Card Payments are provided with chargeback protection. PayPal assumes liability for your eligible debit and credit card transactions and will reimburse you for the chargeback fee and purchase amount, if the transaction is deemed fraudulent or a customer claims that they did not receive your item.
---
Fraud Protection
PayPal uses tools such as a 2-sided network, a machine learning engine that monitors card transactions on your website, and analytics to stay up-to-date with existing fraud and evolving cyber threats that can compromise your account. This toolkit is available for PayPal Business account holders with integrated advanced debit and credit card payments.
---
Operations Management
Next-day Funding
PayPal Business will make received funds available as early as the next day. However, these funds are only available that quickly when deposited into a PayPal account. Withdrawing funds from your PayPal account to your linked bank account and credit card is free and usually takes three to five business days. Instant withdrawals are also available for a 1.5% fee of your withdrawn amount.
---
Taxes
You can set up PayPal to calculate taxes for every transaction. It can also track the payment volume of your business account and send a Form 1099-K to its user if it crosses the IRS thresholds in a given calendar year.
---
Small Business Financing
Merchants in need of extra capital can get a small business loan directly from PayPal. It works with WebBank to offer fixed-term loans, payable in weekly installments. Anyone who's interested can visit PayPal's website and click on the "Check Eligibility" button, which takes you to a five to 10 minute online questionnaire. You can also customize loan terms and loan amounts.
Once your application is approved, funds are transferred directly into your PayPal Business account as early as the next business day.
---
Reporting & Analytics
PayPal's reporting and analytics feature provides useful shopping insights to help improve your sales and plan your marketing strategy. It gives you a list of reports, from a history log to sales insights and details on disputes and chargebacks.
---
Shipping Label Tools
PayPal partners with UPS and USPS, which also gets you discounts on their daily shipping rates. And because it's integrated with PayPal, you can purchase and print shipping labels and track your packages from PayPal.
---
PayPal Business Ease of Use
Easy-to-use app
Does not require hardware to accept payments
Secure platform with simple payment methods
Provides integration with popular online platforms
Active seller community
Robust help center
Text messaging
Extended business phone hours
PayPal Business is among the most popular payment platforms in the industry and widely used because it makes accepting local and international payments easy. Customers and shoppers recognize it as a secure platform for sending and accepting payments online. However, merchants are constantly expressing their concern on how PayPal freezes accounts and withholds funds.
What Users Think of PayPal Business
Many small business owners respond positively to PayPal. Reviewers consistently rate it as a user-friendly platform with a simple checkout process.
G2: More than 1,700 users rated PayPal with 4.4 out of 5 stars, mostly citing that when it works, it's great—but when you have an issue, it's tough to get a solution.
Capterra: PayPal received an overall rating of 4.7 stars, with reviews from over 21,000 users following a similar theme as those on G2.
Generally, merchants love that it's a familiar and well-liked platform, especially for customers. However, it's worth noting that PayPal doesn't function well offline. Support is difficult to reach, and funds may inexplicably become unavailable.
| Users Like | Users Don't Like |
| --- | --- |
| Simplified and easy transaction process | Frequently frozen accounts due to security concerns |
| Integrations with other apps | Higher transaction rates |
Bottom Line
Overall, PayPal Business is a valuable payment processor if you're just getting started with payments, if you sell in-person only seasonally or sporadically, and if you need to get set up quickly. Because it's so versatile, flexible, and well-recognized, it can help boost trust and conversion rates. PayPal has no monthly fees or contractual obligations, so you can try it with low risk. Check PayPal's website for promotions on free card readers.
You May Also Like …