Sales goal trackers improve your ability to manage and convert leads. The best do this by aggregating data into dashboards showing key performance indicators (KPIs), offering easy-to-manage task lists, and by making it easy to collaborate. To help you find the right tool for your business, we reviewed dozens of options with a range of features, unique strengths, and pricing to determine the nine best sales goal trackers for various use cases.
| Sales Goal Tracker | Best For | Starting Price* |
| --- | --- | --- |
| | Long-term activity tracking on a calendar view | Free to $5 per user, per month |
| | Creating individual sales activity tasks lists | Free |
| | Integrating with native Google Workspace applications for task management | Free |
| | Tracking sales tasks using multiple views | $7 to $25 per user, per month |
| | Activity and task reporting features | Free to $5 per user, per month |
| | Customizing your sales goal tracker | Free to $8 per user, per month |
| | Tracking sales performance progress | $12.50 to $24.90 per user, per month |
| | Easy-to-use sales dashboard reporting features | Free to $45 per month |
| | Creating sales performance leaderboards | Contact sales team for pricing |
*Above starting pricing is based on annual billing
1. Trello

Best for: Sales activity tracking on a calendar view
Trello is a project management tool where teams collaborate and view tasks that need to be completed using a Kanban-style board. In addition, Trello can also be used to monitor sales activities by using a board as a sales pipeline and individual cards to represent leads or opportunities.
Trello users can also view their board of sales activities by date using the calendar view option. This is especially useful for tracking opportunities with longer sales cycles. Sales teams can see where each lead is in the sales pipeline and when specific tasks to move the lead through the pipeline have been completed. These sales tracking capabilities can give way to allow users to use Trello as a customer relationship management (CRM) system.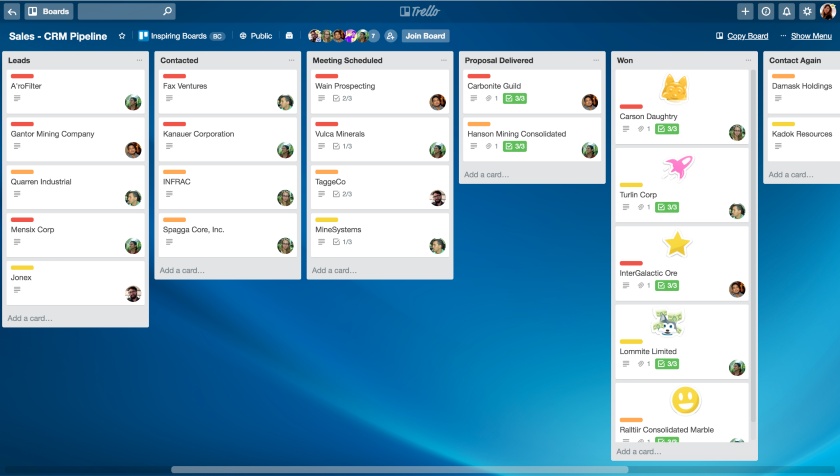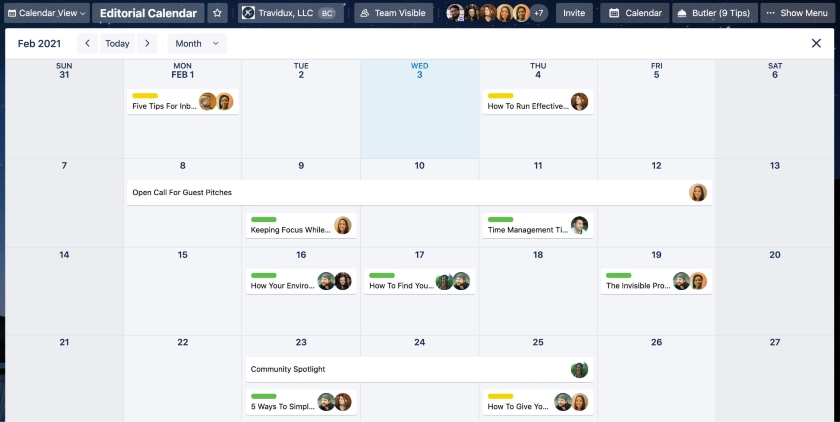 Key Features
Drag-and-drop Kanban-style board interface
Calendar view for viewing tasks via timelines
Ability to add descriptions and attachments to cards
Task assignment feature
Options for setting task reminders and due dates
Task and subtask tracking
Looking for high-level tools to manage your sales operation through strategy development and team motivation? Read our buyer's guide for the best sales management software to navigate options for overseeing your team's sales activities.
2. Microsoft To Do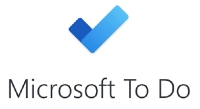 Best for: Creating and tracking individual sales tasks
Microsoft To Do is a simple-yet-intelligent task management app for tracking and sharing tasks that need to be completed. Task management is made easy for users with smart reminders and suggestions. There is also a default tab in the system labeled "My Day" that shows a list of all tasks created by you or assigned to you by someone else. Users can go through each task to mark it as important or completed.
Key Features
Individual task list customization
File attachment capabilities
Seamless, cross-device functionality as web application syncs with both mobile iOS and Android systems
Integration with Microsoft Outlook
My Day page congregates all tasks into one to-do list based on due dates for that day
Task assignment and sharing options
3. Google Tasks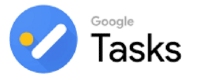 Best for: Integration with Google Workspace applications for task management
Google Tasks is unique in that it can be accessed through the Google Tasks app or on a sidebar in Gmail, Google Calendar, or Google Docs. This makes it especially useful for businesses looking to monitor sales activities within Google Workspace applications, such as those who want the ability to create tasks directly from within Gmail or sync tasks to a Google calendar.
Key Features
Task creation from Gmail, Calendar, and Google Docs, including directly from a Gmail message
Drag-and-drop task prioritization
Due dates can be assigned and synced to your calendar
Mobile capabilities for iOS and Android
4. Smartsheet

Best for: Offering multiple views for sales activity tracking
Smartsheet is a robust project management tool that allows businesses to input task information for projects or sales activities in a spreadsheet. Users can then quickly alternate how they track progress between Kanban board, Gantt chart, grid style, and calendar views. Smartsheet also has features for displaying custom KPIs on the sales dashboard.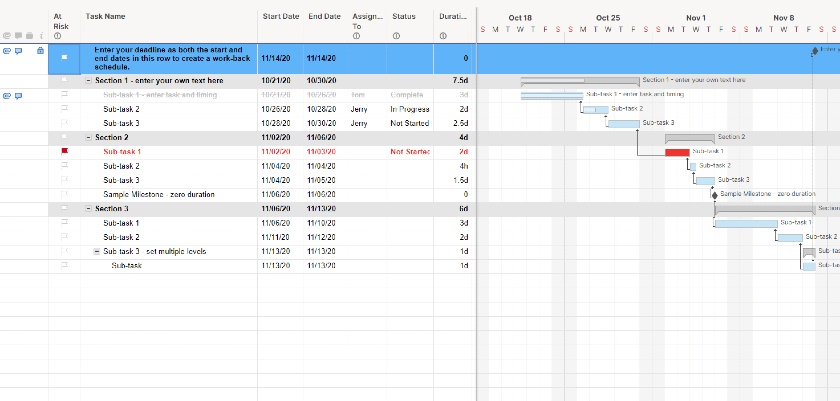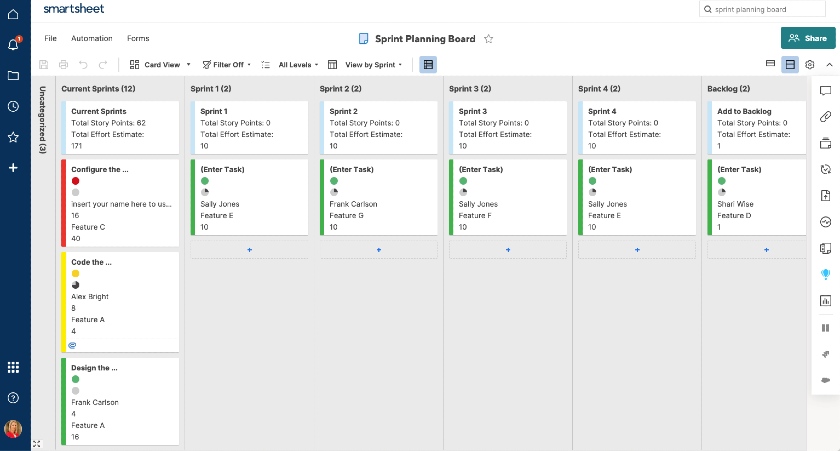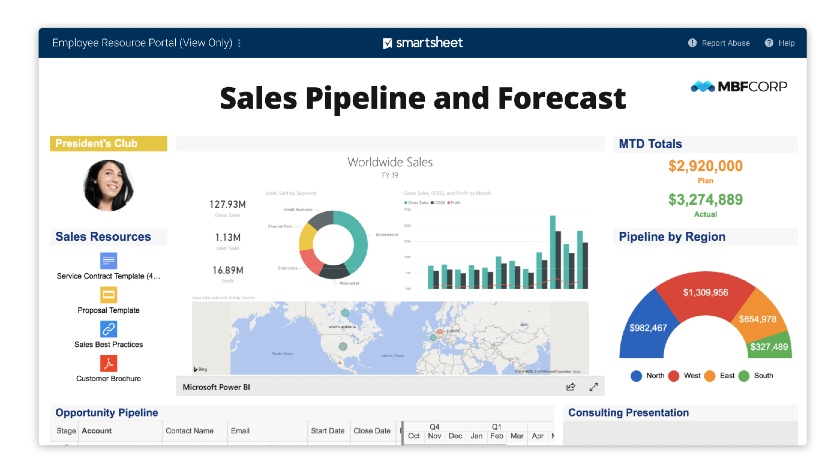 Key Features
Multi-view capabilities for project and task management
Built-in content management system
KPI reporting on the system dashboard, including custom KPIs
Document management capabilities, including eSignature and project file attachments
Form builder for collecting data
5. KanbanFlow

Best for: Reporting activity and sharing information about tasks among team members
KanbanFlow is a collaboration tool. One of its unique features is the ability to view task information using swimlanes within a Kanban board to organize tasks or leads. Swimlanes are horizontal lines used to split the board into more sections. In essence, they add rows to divide tasks further based on criteria such as office location, sales team, or department responsible for a task or stage.
KanbanFlow can also report sales forecast estimates projecting when tasks will be completed. Forecasts are based on factors like how long it takes for tasks to be completed, current throughput (e.g., average number of tasks completed per week), and even burnout rates for how many tasks remain to be completed. Additionally, there is reporting functionality for determining bottlenecks and how consistently task due dates are met.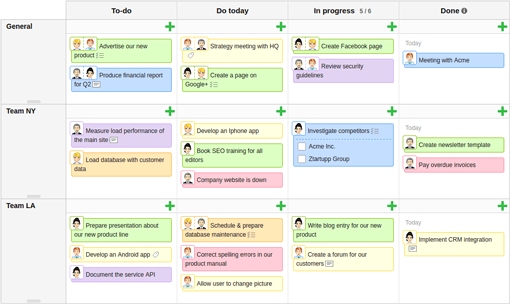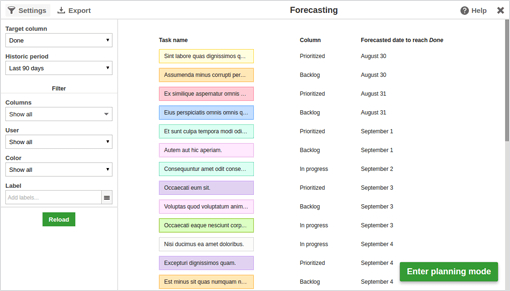 Key Features
Task forecasting tools for estimating when task activities will be completed
Kanban board style with swimlanes for detailed task assignment and management
Tools for managing recurring tasks
Activity performance reporting tracks process bottlenecks and performance by due dates
Time estimate reporting determines the estimated workload of each employee
Calendar task view with filter options based on users, labels, or swimlanes
6. Monday.com

Best for: Customizing a sales goal tracker system to your needs
Monday.com is a robust sales goal tracker that can be customized to meet your business' unique sales goal tracking needs. It has easy-to-use tables for entering data, creating columns, and choosing color schemes.
All of the tables can be viewed on various boards, including Kanban, calendar, and card view. Because of the customization options, you can effectively use Monday.com as a customer relationship management (CRM) tool that tracks the pipeline stage of a lead, or as a sales management tool.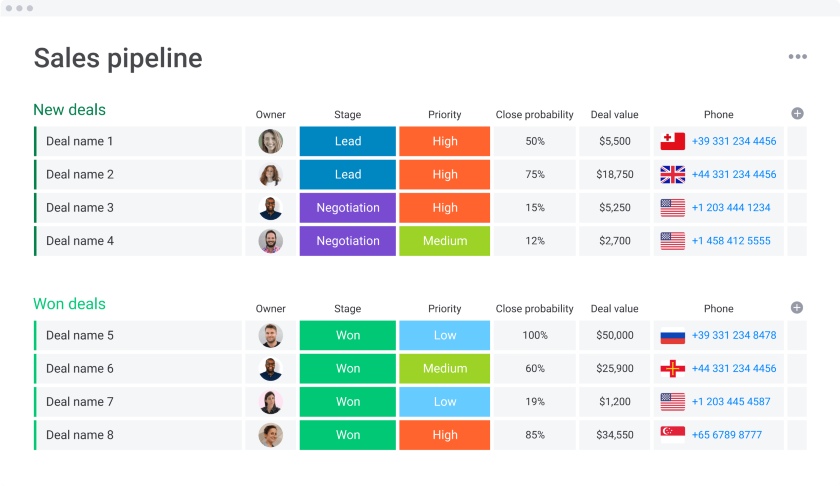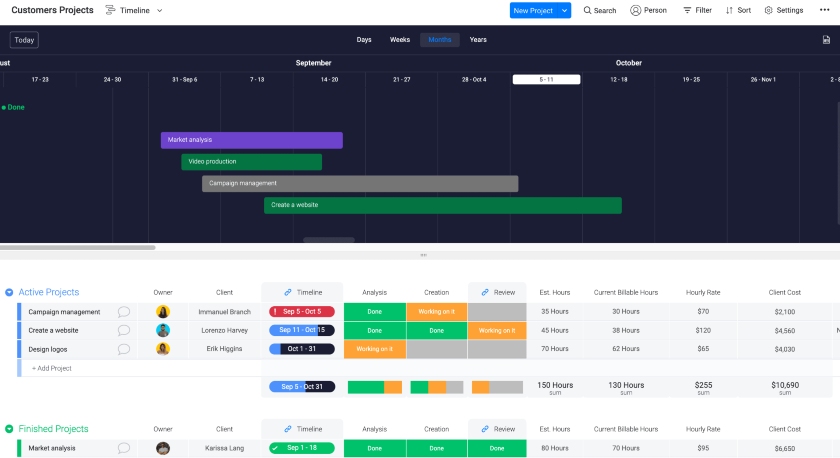 Key Features
Kanban-style view with drag-and-drop functionality
Table customization for data fields, data types, and column titles
Calendar view option for task tracking
Card assignment options for assigning tasks or leads to certain reps
Task or lead description options with the ability to attach files
7. Pipedrive

Best for: Tracking sales performance with sales goals
Pipedrive is a popular CRM that prioritizes sales activity tracking and collaboration. You can use this sales-centric platform to set individual or team sales performance goals in terms of deals, the total value of deals closed, or the number of potential deals added. Plus, managers can track progress by generating performance reports based on the team member, pipeline stage, or time range.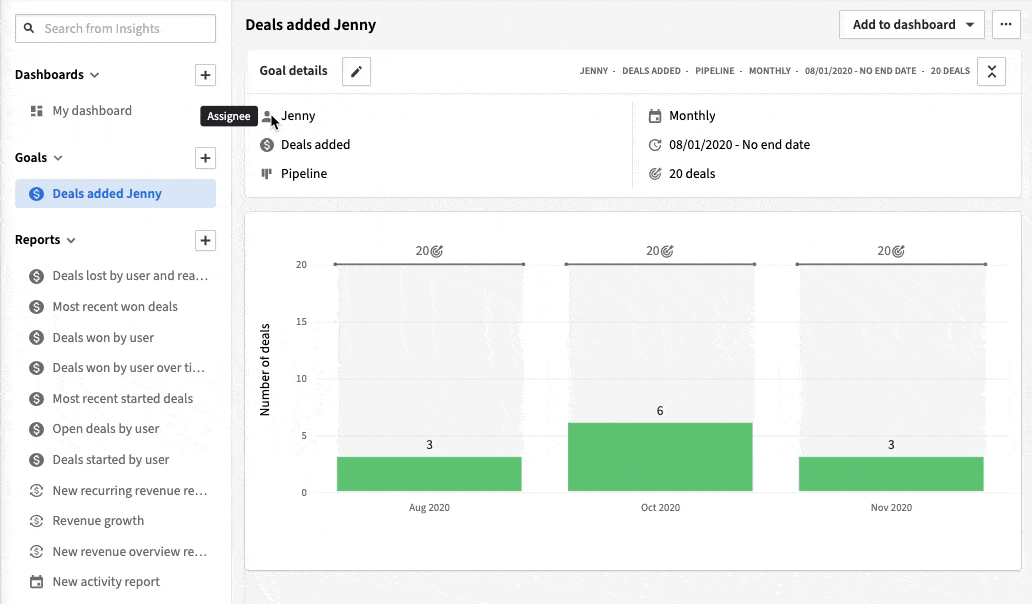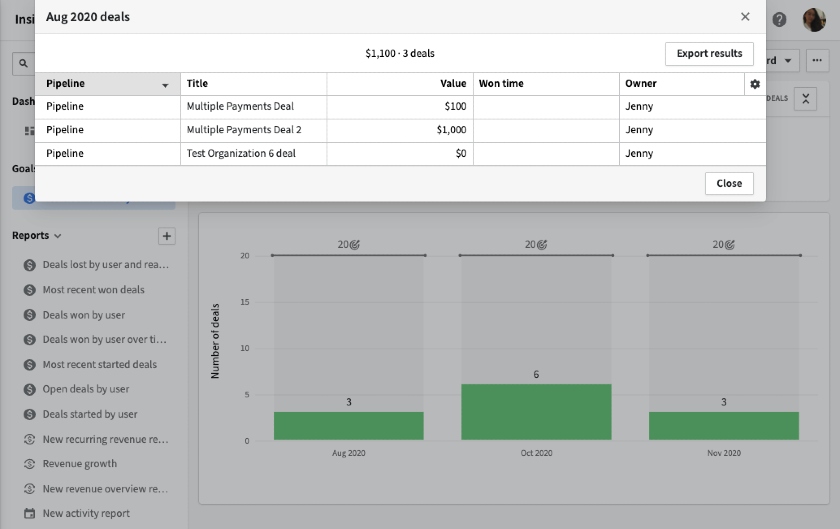 Key Features
Sales pipeline management features viewable on Kanban-style board
Lead and contact management functionality
Goal setting and tracking tools
Sales activity and task monitoring
Sales forecasting tools
Mobile applications for both iOS and Android
Interested in learning more about what Pipedrive can offer? Be sure to check out our expert Pipedrive review for information on features, pricing, product usability, and use cases to see if it's right for your business.
8. HubSpot

Best for: Simple sales dashboard reporting features
HubSpot's CRM software allows teams to view sales activities and performance from a dashboard. Individual users can customize dashboards to show specific information like calls dialed or appointments made. Teams and individuals can also set sales goals and track progress by creating performance reports and adding goal data to the charts for comparison.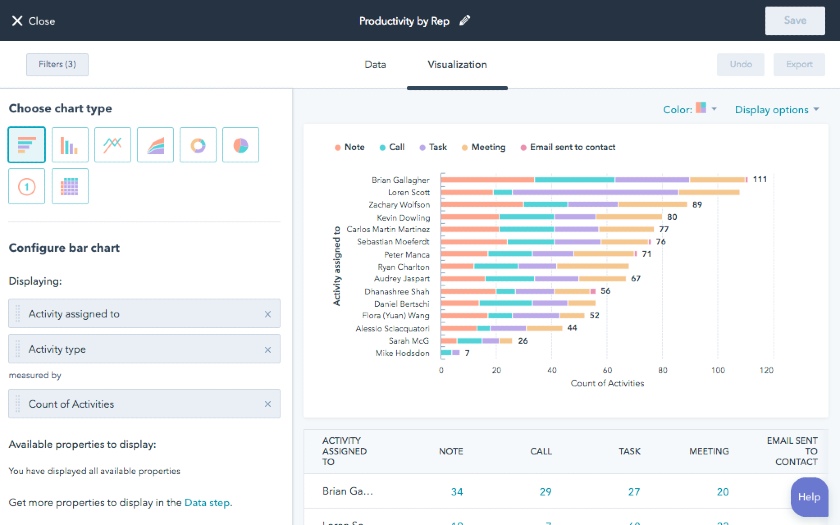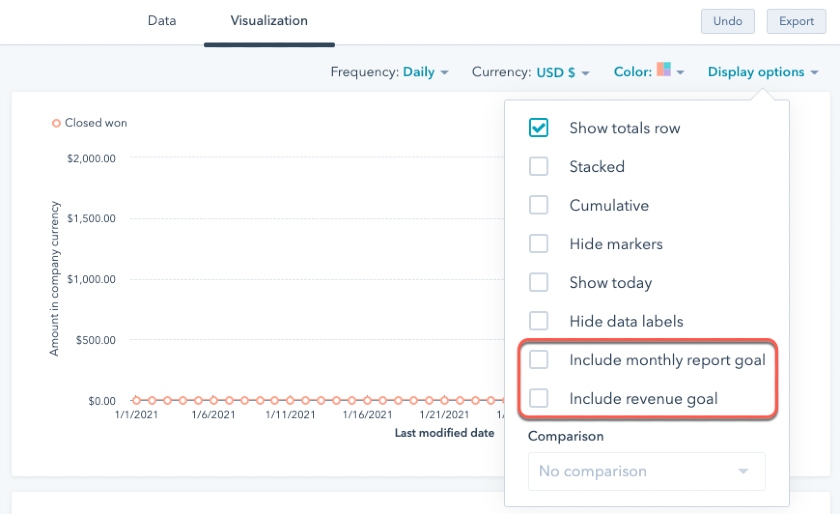 Key Features
Customizable performance reports and analytics
Built-in sales forecasting tools
Custom system dashboard with activity and performance metrics
Deal pipeline management on Kanban-style board
Sales goal setting and tracking tools
HubSpot makes it easy to generate reports, deploy email marketing campaigns, and manage leads. Other details on this product's features can be found in our HubSpot review to give you insight on subscription plan comparisons, case-specific product use scenarios, and information on the usability of operating the product.
9. Hurrah! Leaderboards by CRMgamified

Best for: Creating sales goal leaderboards from a CRM system
Hurrah! Leaderboards is a tool for tracking sales goals offered by CRMgamified. It takes information from your CRM or other data sources about sales goals and performance, and then uses this data to create leaderboards to gamify your sales operation.
Leaderboards can be displayed on an office TV or video screen, and are automatically updated in real time as new information is processed in the system. Displaying the results of a sales leaderboard is a great way to motivate teams to hit high performance levels as it promotes friendly competition. This can also be coupled with rewards, badges, and management recognition to motivate sales reps even more.
Key Features
CRM integrations with Salesforce and Microsoft Dynamics CRM
Database integration with Excel, Tableau, and Microsoft SQL
KPI monitoring and display
Live countdown and progress performance trackers
Customizable announcements for sales achievements
How We Evaluated the Best Sales Goal Trackers
We evaluated the best sales trackers based on product features critical for a sales tracking tool, such as sales goal monitoring, activity reporting, and task management. We also looked at the effectiveness of these features in terms of their ability to track sales goals and tasks. Additionally, other product attributes businesses generally look for, like price, ease of use and availability of customer support, were used in our evaluation.
Bottom Line
There are various types of tools for goal and task tracking, including project management tools, task tracking applications, sales dashboards, spreadsheets, and CRM software. Choosing the best sales goal tracker for your business depends on your priorities, such as whether you need to monitor sales performance, set sales goals, track tasks and pipeline activities, or all of the above.
Additionally, the way you prefer to view performance and tasks will impact which sales goal tracker to choose. Common examples of ways to view sales activities and results include to-do lists, Kanban boards, Gantt charts, and sales dashboards.
The best sales goal trackers monitor key sales performance metrics like deals closed and revenue opportunities, and organize the tasks and activities that need to be managed to hit those metrics. This helps your business manage leads more efficiently and effectively to move prospects through the sales pipeline faster and, ultimately, close more deals.