Sales territory management is the process sales teams use to assign leads or accounts to specific salespeople based on geography, industry, product, or account size for more efficient follow-up. Successful implementation of this strategy requires correctly defining your customer segments, creating proper territory boundaries, designating appropriate team members, establishing assignment rules, setting measurable goals, and evaluating territory performance.
Our guide includes steps to sales territory management implementation, and assumes that you've already selected the right sales territory management software for your business. If you're still at the research stage of scouting for the best option, check out our guide on the best sales territory management software.
A sales territory management implementation plan can be summed up into six essential steps. Below, we discuss each step in detail to guide you through the process.
1. Define Your Customer Segments
The first and most important thing you need to do as you begin to implement your sales territory management strategy for your sales organization is to define your customer segments. By doing so, you'll be able to make the best decisions about how to group them into territories when it is time to implement your strategy.
Defining your customer segments involves breaking down your leads and customers into groups with similar characteristics. There are three general ways to segment business-to-business (B2B) customers. If you're selling directly to consumers (instead of to other businesses, otherwise known as a business-to-consumer, or B2C model), the steps are similar.
The most common customer segment groupings are as follows:
Segmentation by Location
One of the most common and easiest ways to segment customers is by geographic location, such as state, region, or country. Depending on the number of accounts, you may further divide them into smaller territories, like cities and ZIP codes.
When using location rules for more efficient sales management, you should assign all types of companies within that geographic area to a particular sales agent or a group of sales agents. As this method is tied to a map, it is one of the most straightforward strategies to implement when managing territories.
---
Segmentation by Size
Another option is to break your customers into segments by size. This usually means the amount of annual revenue of the client or their annual spend with your business. In some cases, it will make more sense to use other size measurements, like the number of locations, but even those are generally related to the overall size of the revenue the customer brings to your business.
---
Segmentation by Industry
The third option is to segment your customers based on the type of business or industry they are in. These are known as vertical territories because they cover accounts within the same type of business across your business operations instead of covering a geographic area. This also allows your team to become subject matter experts in their specific industry.
---
Hybrid Segmentation Strategy
Sales organizations that deal with larger numbers of leads and accounts often combine various criteria to create hybrid territories. For instance, you could have different reps handling small businesses and enterprise segments within the same geographic area.
Hybrid segmentation allows sales organizations with a diverse customer base to focus their sales rep's efforts on similar types of customers within defined geographic areas. This type of territory management requires more setup work to define and create multiple layers of customer segments. Still, it makes more sense for larger sales teams dealing with multiple business types across different locations.
---
2. Create Your Territories
Once you've created the customer segments that make the most sense for your business, group them into territories, either geographic or otherwise. As you do this, consider the viability of dedicating resources to a group of customers and prospects. For example, it doesn't make sense to have only one customer in a location or industry, unless it is a large, multi-division enterprise that represents a large portion of your revenue.
Creating territories without current revenue-generating customers and an adequate number of leads and prospects will simply end up draining resources that could be better used elsewhere. In addition, you need to evaluate the overall expected revenue you'll generate from each territory and whether it justifies the assignment of a dedicated salesperson.
There are several factors to consider as you create territories:
Consideration #1: The Number of Current Accounts
When creating a territory, consider the number of your current customer accounts and how they are being managed. This will help you determine how to shape your territories to make them similar in size.
For example, you can divide geographic territories into groups of 30 to 40 accounts based on ZIP code. Then, combine neighboring ZIP codes in order to fill each one. Or you can divide accounts in a geographic territory by standard industrial classification (SIC) code.
Also, look at the size of accounts within a geographic area. Creating a balance of accounts makes the sales process more manageable. It helps you create an even distribution of your team members. Sometimes, there are reasons for a territory to vary in account density. Aim to create territories that can be adequately managed and have room to grow.
Consider not only the number of accounts a certain sales rep should manage, but how much time each account takes to manage properly. For example, a complex, high-revenue account may take several hours per week to manage, but a smaller account might only need an hour every week or two.
---
Consideration #2: Prospect Availability
In addition to current customers, the territories you create need to have an adequate presence of prospects in order to be viable. While the specific ratio may vary based on your particular industry, consider building territories with at least two to three times as many potential prospects as existing customers. This will give your salespeople room to grow their territory, leading to increased sales for your business.
---
Consideration #3: Overall Business Presence
For a territory to be viable, consider your business presence in it. You don't have to have a physical location in every territory. Still, it is important to examine how you will interact with prospects as well as serve the needs of your customers for the territories that you are managing.
Sometimes, your business presence could simply mean an actual salesperson who handles accounts and generates new customers in that particular territory. In a different situation, it makes sense to have a physical office in a certain territory to provide for your customers and address any concerns they may have.
To evaluate whether your business presence can support your customers, consider these particular areas:
Prospect and lead generation: Gauge if you'll be able to expand your business in a certain territory with your current level of presence.
Handling sales consultations: Determine whether sales consultations can be done virtually or if face-to-face product demos are needed for the kind of products and services you're offering in a particular territory.
Product and service delivery: Determine whether a physical warehouse or storage space is required, or if your logistics capability can survive without having an actual location on-ground.
After-sales service support: Ask yourself if you need someone to be physically present to address potential after-sales concerns from your customers.
---
3. Assign the Right Sales Team Members
After you've established your territories, assign them to salespeople and managers who will handle the day-to-day sales and prospecting activities. One of the primary goals is getting the right people in the right place, which usually entails assigning them to territories that match their expertise or geographical location. This helps your team and customers have a good overall experience, which benefits your business by leading to more sales.
In addition to assigning salespeople to the right territories, make sure they have the leadership and support they need. This means you should designate a sales manager who provides accountability, sales training, and resources needed to successfully manage a territory and oversee the performance of the sales reps.
Below are strategies for assigning team members to consider as you put your team in place:
Assign Reps Based on Expertise
One of the most effective ways to manage territories is to assign your sales reps based on their expertise. Assigning sales reps based on their skills and experience enables them to easily relate to the prospects and customers in their territory and increases their ability to build relationships that lead to sales.
Assign Reps Based on Location
Often, your field sales team will be assigned to territories based on their location in that territory. This saves on travel costs and increases the ability of reps to engage with prospects and customers regularly. If you have an inside sales force that primarily responds to leads generated online, the physical location may not matter. However, you should consider assigning reps based on where the lead came from, keeping similar types of customers grouped together.
4. Create Territory Assignment Rules
Once you've created your territories and assigned sales team members, use a customer relationship management (CRM) tool to assign incoming leads and deals to specific reps based on the criteria you've defined. This eliminates the manual process of directing leads to the right sales reps and lets the system automations keep everyone organized. As circumstances change, you can also set up rules to move leads and deals from one territory to another.
We'll use Freshsales to show you the specific steps needed since we consider it the best territory management software. It can create robust assignment rules you can use to have customers and new leads automatically routed to the appropriate sales team members.
While the specific settings may look different if you're using another CRM, you can generally follow these steps and make changes as necessary.
Find Territory Settings
You can usually access the territory function in your admin settings. Clicking on this brings up all of the common settings you use to set up the CRM, from adding users to billing. In Freshsales, scroll down to "General Settings" and select the "Territories" icon, which is where you create rules to automatically assign accounts and new leads to specific territory reps.
---
Create a New Territory
Once you are in the Territories settings, you'll see a list of any territories you've already created and the option to create a new one. Freshsales also provides direct links to relevant help for extra support. Click on the "Create Territory" button to set up a new territory.
Remember, as you create these territories, define them based on the customer segments and groupings you defined above. If you decide to segment your customers geographically, your territories will reflect the locations where your sales reps are assigned to manage customer accounts. For example, you'll notice that we've created three territories, each based on the state where the customers are located.
---
Name Your Territory
When you select "Create Territory," you'll be able to set up the territory based on the criteria you've established. Start by naming the territory and providing a brief description. These will help keep your team organized, especially as your sales organization grows and you add more territories.
---
Define Territory Rules
Specify the distinct criteria for each territory, whether it's a location, industry, or size. These are the rules that automatically assign new prospects to territories as they are identified. For example, you can specify that any prospect with a certain ZIP code should be assigned to the territory you named "01-NY North," while others go to "02-NY West."
---
Assign to Reps
After you have named your territories and specified criteria for handling new prospects identified in the same area, it is time to assign the individual rep who will be responsible for handling it. In a CRM, this is the person responsible for following up on the account and tracking activities.
If you have multiple sales team members managing accounts in a territory, you can add all of them at this stage. For example, you might have an account manager, sales administrator, sales manager, and a customer service agent assigned to a particular territory. Everyone you add here will automatically have access to the specific leads, contacts, and accounts that match this territory.
---
5. Set Measurable Territory Goals
After you have created your territories and assigned the right people to each, create sales goals for each territory, reflecting both revenue and sales activities. This helps you keep your team motivated and accountable for their performance. It also allows you to measure the effectiveness of both your overall sales strategy and your territory sales plan, which will be discussed in the final step.
The most efficient way to set goals and keep track of your team's performance is to use the reporting features in your CRM software. Sales goals help motivate your team, improve sales performance, and provide a meaningful way to measure the success of your efforts both as individuals and as a team.
Some examples of goals you can set as part of your territory management strategy include:
Revenue Goals
Revenue goals are one of the most common and are easy to understand. They are generally one of the easier goals to measure. Many sales teams also use sales targets for individual accounts, but for the purpose of territory management, think about goals in terms of the overall territory.
Activity Goals
Another aspect to consider is tracking activity goals. You can set a goal of how many customer appointments a sales rep should have each day, or how many prospecting calls they should make. These goals can be especially helpful in new territories where it is harder to determine the expected revenue.
New Customer Goals
The third type of goal you should consider is the creation of new customers. This type of goal is results-oriented, rewarding sales reps for following the sales process. It is another way of measuring performance in new territories without extensive sales history to measure against.
An effective way to motivate your sales reps to reach their goals is to compensate them when they hit their targets—one of which is through performance-based compensation. Check out our article on the best commission tracking software to see which one works best for your business.
6. Evaluate Sales Territory Performance
After identifying specific goals you want to achieve, it is time to set key performance indicators (KPIs). They determine your company's performance in the various territories your business covers and see if the strategy you've put in place works for you.
Goals vs KPIs: Goals and KPIs are usually closely tied together and are sometimes interchanged. However, goals are the outcomes that you envision achieving, while KPIs are the metrics you measure your success by.
Below are some metrics that you can measure to evaluate whether your strategy for territory sales management works for your business:
Revenue Performance & Growth
Based on your sales history, identify the overall value of revenue your business needs to generate. In evaluating this, take a look at how each of your territories is performing over time and ensure growth in each—whether monthly, quarterly, or yearly. There is no standard percentage when it comes to revenue growth as this varies per business, and it is up to you to decide how aggressive or conservative you want your revenue KPI to be.
New Sales Opportunities
Closely tied with your goal of finding customers, a KPI that's easy to measure is the increase in the number of new sales opportunities within a territory—whether these involve new clients or new opportunities given by your existing clients. Apart from evaluating the performance of your agents in servicing existing clients, consider KPIs to meet in terms of generating new business opportunities from the territories they are handling.
Accuracy of Sales Forecasts
Another KPI to consider is the accuracy of your sales predictions within your sales territory management tool. Usually, territory management tools are included as an essential CRM functionality, providing robust analytics and sales forecasting tools. Setting up sales forecasts entails combining historical sales data, opportunities in the pipeline, and revenues current customers bring.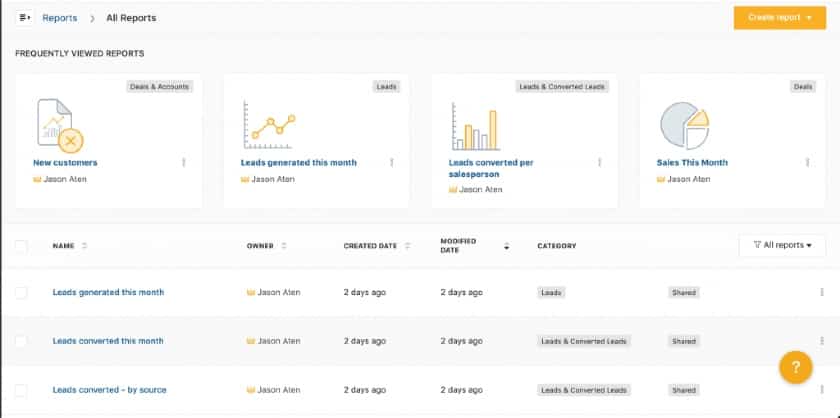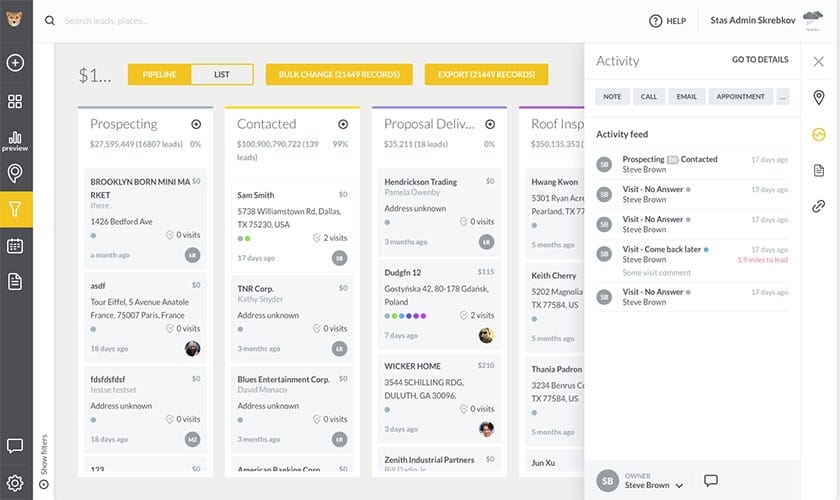 Frequently Asked Questions (FAQs)
When should I implement sales territory management?
Generally, segmenting your customers by location or industry is a good practice for any business that handles sales beyond their immediate local market. Once your sales team grows beyond one or two sales reps or beyond one location, create a few territories, even if they are virtual. This ensures your team isn't duplicating efforts and establishes lines of accountability.
How do I know which types of customer segments are best?
This question depends on your business and your specific customer types. However, if you find you are frequently selling to similar types of industries, it makes sense to group those together. In the same way, if you find many of your leads or customers are grouped geographically, consider dividing them up into location-based territories.
How large is too large for a territory?
There's no specific rule that works for every business. Generally, a territory should be managed successfully by an individual salesperson. That means the expectations matter more than the specific size. If you expect someone to grow a territory by 100%, a smaller territory makes sense. If you expect them to make eight customer visits a day, that is likely a larger territory.
Bottom Line
Successful implementation of sales territory management helps streamline your business' sales activities. It also helps establish accountability for customer segments among your sales reps and eliminates confusion about who is responsible for new leads. Use this guide to create sales territories that help you accomplish your sales plan and generate more new business.