Cross-selling is a sales management strategy used to increase the overall value of a transaction by suggesting additional products or services that complement the existing purchase. For example, a custom-tailored suit store might ask you if you'd like to consider shoes to go with a brand-new coat and pants. It is commonly used in retail sales but has also become common in B2B sales as well as service-based industries, such as professional firms and agencies.
In this article, we discuss effective tips and benefits of cross-selling to gain satisfied customers and achieve sales targets faster.
When to Use Cross-selling
Cross-selling is most effective when you are at the point of sale and the customer has made a purchasing decision. The purchase provides an anchor to which you can relate the new product or service you are trying to cross-sell, and allows you to pivot to how that additional purchase adds value. However, it can also be tied to seasonal events for service businesses. For example, a lawn maintenance service might offer snow removal.
Here are a few times when cross-selling is appropriate and effective:
When you sell complex products: If you are selling something that benefits from additional components to get the most value out of a product, cross-selling can be an effective way to meet a customer's needs.
Retail sales (B2C): There are various ways to cross-sell in retail environments, from selling batteries for electronic devices to suggesting accessories that go with a clothing purchase.
B2B service providers: Often, the customers you serve have other needs that you may be able to meet. For example, if you're a bookkeeping firm, you might suggest tax or audit services in addition to the primary purchase.
5 Tips for More Effective Cross-selling
When done well, cross-selling can help increase sales revenue by making it easy for customers to purchase additional products or services that make sense for them. It is important to recognize that the timing of your cross-selling pitch plays a factor in your success, but there are also a number of things you can do to make it more effective, improve your sales performance, and increase your business revenue.
1. Focus on Adding Value
Cross-selling only works as a part of your sales plan when it's focused on adding value to the customer. While it can be a solid way to increase overall revenue, you risk alienating any trust you've built in the customer relationship if it isn't focused on the customer's needs and desires. If you've done the work of understanding your customer and their needs, it is easier to keep the selling process focused on meeting those needs with a range of products or services.
For example, it doesn't add value to a customer to start adding products and services because you want to increase the dollar amount of a sale. Instead, focus on the needs you've uncovered and consider what additional solutions you can offer that you may not have previously discussed.
2. Cross-sell Complementary Products & Services
One effective way to cross-sell is to create packages or bundles that make sense to your customer. A great example of this is a bundle of accessories that complement the main purchase. For instance, you might sell a mobile phone with a protective case, headphones, a charging cord or cable, or a car phone mount. Those additional options make sense because they are products a consumer would naturally be interested in when purchasing a mobile phone.
One of the best ways to keep track of your customer interactions is using a customer relationship manager (CRM) like Pipedrive, which allows you to see past deals and make informed suggestions that add value to the customer. Pipedrive is an easy-to-use sales management tool with plans that start at $12.50 per user, per month.
3. Be Transparent
When you're having a sales conversation with a customer, be open and honest. No one likes to feel like they're being "sold to" or that the salesperson they're working with is putting their own interests before the customer's. Most of us have had this experience, whether it's at a car dealership, a department or electronics store, or at an insurance agent's office. Use your own experiences to help you avoid treating your customer that way.
Customers can sense when you're trying to "sell" them into something they don't need—or that isn't a good value for them. They also get uncomfortable when it feels like whatever they are buying is confusing or the details seem hidden behind jargon and fine print. Instead, be upfront and transparent by helping the customer see the value of your products or services—and don't be pushy if they say they aren't interested.
4. Use Language That Communicates Value
When you talk to a customer about additional products or services, be sure to communicate with them in a way that focuses on the value you are trying to create. For example, if you are an HVAC contractor and you are selling a customer a new air conditioning unit, you might say something like, "Most of our customers have found that a smart thermostat saves them a lot of money in the long run. We have two models that work with your new unit I'd love to tell you about."
That helps the customer focus on the benefit to them instead of seeing it as an attempt to squeeze more out of a sale. In fact, how you talk to the customer about the items you are attempting to cross-sell can make all the difference in whether or not they decide that an additional purchase makes sense.
Usually, customers are most willing to make a purchase when they feel that the item or service they're buying will save them time, money, or give them peace of mind. Talking about those specific attributes and how the product you are cross-selling helps.
5. Make It Easy to Do Business
If you want a customer to purchase something else in addition to what you've already sold them, make it as easy as possible for them to say yes. Cross-selling is much more successful when the additional product you are trying to sell is a natural fit and has an exponential value that the client finds hard to turn down.
Sometimes this is a discount or bonus offer only available when certain items are purchased together. Or, it can be as simple as offering free shipping when an order is over a certain amount. We've all experienced an online store that promises that if we add $10 more to our cart, the store will ship it to us for free. That makes it easy to say yes since there's an added benefit beyond the additional product.
For example, you work for a company that sells paper goods. Each time you place an order, the sales rep asks if you'd like to order toilet paper. Since toilet paper weighs almost nothing, it costs almost nothing to ship on a truck, so the company passes along that savings to the customer by offering free shipping. It's easier to agree to this, since there isn't any added cost of shipping that would apply.
An excellent way to cross-sell is to understand your ideal customer's needs and purchasing behavior. A CRM like Pipedrive helps you detect trends and move deals through your sales process using a highly visual pipeline tool.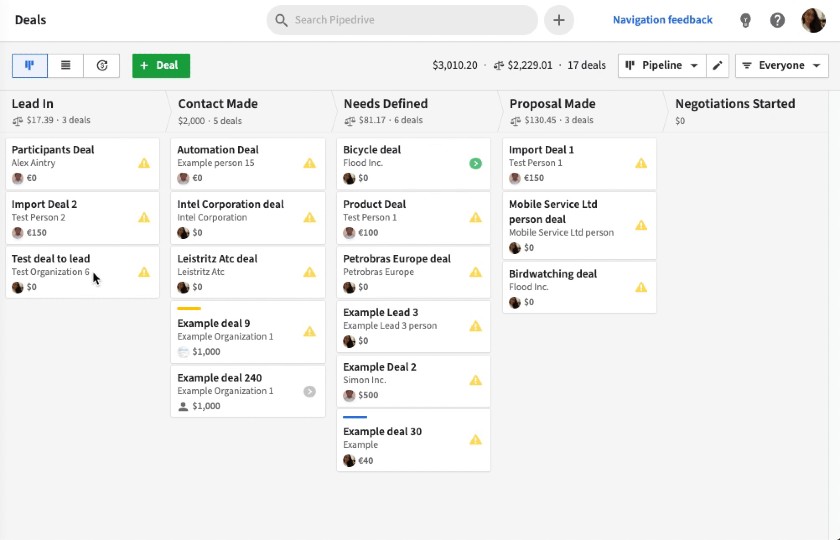 Benefits of Cross-selling
The most obvious benefit to your business is that cross-selling can lead to additional sales revenue. As a salesperson, it is a powerful incentive to cross-sell since it helps them meet their sales goals faster. It's also easier to sell additional products to an existing customer than it is to find a new customer and start the sales process all over.
Here are four of the most significant benefits of effective cross-selling:
Increased sales revenue: The most obvious benefit to your business is that cross-selling can often result in a larger overall sale, generating more revenue for your business and helping salespeople meet their performance goals.
More profitable sales: Since the additional sale took place as a part of your initial efforts, there is a lower overall cost of sales for both components compared to selling them separately, resulting in a better profit margin.
More satisfied customers: Effective cross-selling also results in more satisfied customers since their needs are more fulfilled.
Better long-term customer relationships: Profitable customers who feel like their needs are met end up becoming long-term relationships that benefit both the customer and your business.
Cross-selling vs Upselling
One of the most commonly confused concepts is the difference between cross-selling and upselling. Cross-selling involves selling a different product or service that makes sense based on what your customer is already purchasing. Upselling is simply selling a more expensive variation or more of what the customer already agrees to buy.
In the example of a custom suit maker, an upsell might be a higher-quality fabric or stylized buttons. A cross-sell would be a pair of cuff links or a belt. Upselling is more common because, in some aspects, it's easier. The customer already wants the product, so you simply look for a way to convince them to purchase a more expensive version. Cross-selling, however, has greater benefits since you get customers to buy additional products (which can also be upsold).
Bottom Line
Cross-selling is an important practice for salespeople to use in their sales process because it adds value to your customers by addressing their specific needs. It also helps your business increase revenue by adding incremental sales with each purchase. The principles and steps in this guide help sales reps cross-sell effectively and create a win-win for both you and your customers.