A marketing qualified lead (MQL) is a potential customer who matches specific minimum requirements based on your ideal customer profile. These potential customers are typically sourced from marketing efforts such as ad campaigns and email marketing campaigns. MQLs are typically one of the first stages in a multistage sales pipeline process, often tracked using a customer relationship management (CRM) program.

How a Marketing Qualified Lead (MQL) Works
A marketing qualified lead (MQL) is one of the earliest leads in your sales funnel, also referred to as an engaged lead. These are leads who match your ideal customer profile and have clicked on a link, called for more information, or otherwise responded to your early-stage marketing efforts, such as a digital ad or email marketing campaign. Businesses track MQLs to determine the effectiveness of marketing campaigns and to help prioritize follow-up sales efforts.
Businesses evaluate this effectiveness by comparing the number of leads that are responding to their messages against the messages that have been sent by their marketing team. For example, if you send 1,000 emails with an offer to a targeted audience and 100 of those people click on a link to learn more information, 10% of the people contacted with the initial email are marketing qualified leads.
If a marketing team sees that a marketing campaign is resulting in a low number of marketing qualified leads, they will know to cancel the campaign and reallocate their budget to a better performing campaign, or adjust their message. A good MQL percentage varies by industry and can be measured in terms of message open rate, click-through rate, or click-to-open rate.
For example, the most recently published statistics from GetResponse Email Marketing Benchmarks suggest that on average, a good message open rate is between 16.10% and 36.15%, and a good click-through rate is between 1.87% and 6.46%—which is largely dependent on your industry. You can assess the effectiveness of your campaigns against these general MQL benchmarks.
Marketing Qualified Lead (MQL) vs Sales Qualified Lead (SQL)
Sales qualified leads (SQLs) are marketing qualified leads that your sales management leader or team has determined to be ready for the next stage in the sales process. SQLs can also be referred to as vetted prospects since they have both responded to marketing messages as well as been vetted by a member of the sales team as potential buyers. In most cases, SQL is the stage in a multistep sales funnel that comes right after marketing qualified lead (MQL).
If you aren't sure how to determine whether a lead is an SQL and ready for the next stage in the sales process, check out our article on lead qualification.
Sales Qualified Lead (SQL) Conversion Rate
The rate at which marketing qualified leads become sales qualified leads is called the "MQL to SQL conversion rate." Typically, the higher the conversion rate, the better. Calculating your MQL to SQL conversion rate is as simple as dividing the number of sales qualified leads by the number of marketing qualified leads. This number can help you gauge the quality of leads sourced by marketing efforts as well as track sales follow up activities.
For example, if you have a high percentage of MQLs per marketing message, but a low SQL conversion rate, your marketing team may have created an engaging message, but not necessarily one that is making it easier for your sales reps to sell. On the other hand, a low SQL conversion rate could also be the result of your salespeople taking too long to respond to interested leads.
How to Track & Measure MQLs & SQLs With a CRM
In order to track and use MQLs and SQLs as effective measurement tools, you must be able to record your marketing results, have an established lead scoring process, and be able to track the number of messages that have gone to prospects per your process. You can track and evaluate MQLs and SQL conversion rates by hand, but a CRM with lead management, email marketing, email tracking functionality, and web-to-lead forms greatly speeds up the process.
For example, Freshsales is a powerful tool that can help you score and track leads through your sales process and assess the quality of prospects sourced by your marketing efforts. Learn more by signing up for a free trial today.
You can use CRM software, like Freshsales, to track and measure your lead quality by doing the following:
Create Your Sales Pipeline
The first step when tracking your MQLs, SQLs, and the SQL conversion rate is to use a CRM to set up your entire pipeline process. While marketing and sales qualified leads are typically two of the first steps in the process, they aren't inclusive of the entire sales pipeline, and it's important you track leads throughout the entire sales cycle.
Your sales pipeline should have, at a minimum, the following basic stages:
Marketing Target: This is an individual or business that matches the attributes of your ideal customer, such as industry or buyer behavior.
Marketing Qualified Lead: This is an individual or business that has taken an action as a result of your marketing outreach, such as clicking on a link or visiting your website.
Sales Qualified Lead: This is an individual or business that has taken an action as a result of your marketing outreach and has been vetted by a salesperson as a good potential prospect.
Sales Meeting or Demo: This is the stage where a salesperson has reached out to an individual or account to learn more about a specific need or pain point with the purpose of preparing a proposal.
Sales Proposal: The sales proposal stage is when a salesperson has presented a prospect with a proposal or bid that addresses their specific needs.
Close: This is the stage following the presentation of a sales proposal and the time the salesperson is addressing any remaining objections or negotiations.
By setting up each stage of your sales process in your CRM, you can quickly and easily see the number of leads that make it from one stage to the next and then calculate how effective your marketing and strategy is at each step in the process. Freshsales has a user-friendly lead management tool that lets you create a custom sales process and displays results in an easy to read Kanban-style format.
You can track conversion rates manually, but a CRM that has been set up to match your sales pipeline and that also offers lead scoring can provide real-time analytics. Many CRMs can also be set up to report back key indicators of performance, such as your MQL to SQL conversion rate in dashboard style reports, making it easy to measure the health of your pipeline at a glance.
Record Your Marketing Campaign Results
Marketing campaigns can entail anything, including emails, phone calls, articles, whitepapers, case studies, and social media posts. Basically, it includes any strategy designed to capture the attention of your ideal customer—with the goal of enticing them to take action.
A CRM can help you manage several types of marketing campaigns, depending on which one you use. For example, Freshsales Prospecting Campaign Manager can run multiday, automated, mass marketing campaigns directly out of your CRM. Results from these campaigns, such as the number of messages sent, can then be displayed at a glance.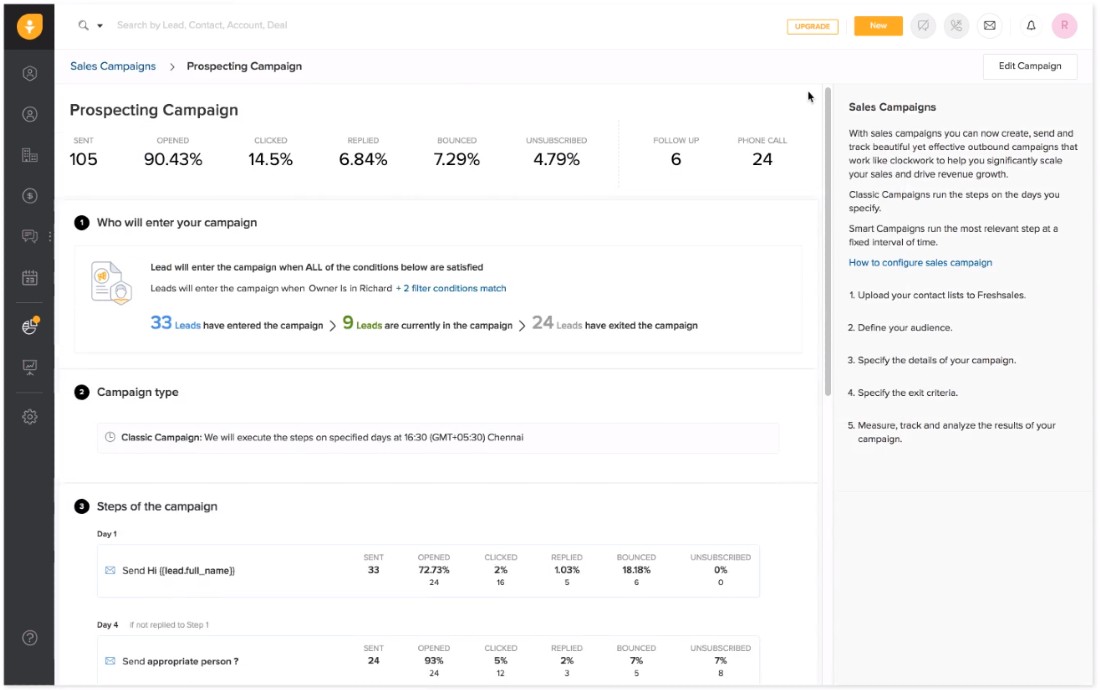 Establish a Lead Scoring Process
Lead scores are used to rate the probability of the lead progressing to the next stage in the sales process as well as their potential value to the company. Factors contributing to a lead score include estimated deal size or strategic value and engagement such as a link click, website visit, or participating in a phone call. Leads with high scores can then be used by sales and marketing teams to quickly identify the best marketing qualified leads.
Many CRMs can include built-in automated lead scoring. Freshsales, for example, gives you the ability to customize how leads are scored based on activity or lead job title. Then, it automatically assigns a score to new leads.
Many CRMs can automate lead scoring for you, but you can also use your own system. We've created a lead scoring template your sales team can use to score each individual lead. Download the PDF here.

Calculate Conversion Rates at Each Step of the Sales Process
You can calculate your marketing target to qualified lead conversion rate by dividing the number leads resulting in a high scoring leads from the total number of emails sent, phone calls made, or social media impressions created from your marketing campaign.
Frequently Asked Questions (FAQs)
What is an ideal customer profile?
An ideal customer profile is a generalized summary of demographics and psychographics that characterize the person who is most likely to purchase your goods and services. You can learn more about how to create this tool and download a free template in our article on how to create a customer profile.
What are good marketing qualified lead parameters?
A good marketing qualified lead is a lead that closely resembles your ideal customer profile. While this lead will likely not be an exact match, a good marketing qualified lead is an individual or account that has engaged with your message and is in, or will soon be in, a position to buy.
How can I get marketing qualified leads?
Marketing leads can be purchased through lists from providers such as Uplead, but oftentimes the best leads come from organic outreach. As leads from a website are significantly more likely to convert from a marketing qualified lead to a sales qualified lead, having a website that includes web-to-lead forms is a great source of marketing qualified leads.
Bottom Line
Marketing qualified leads are a critical component to every sales process. They are the leads most interested in your content, and are most receptive to follow-up sales messages. Therefore, it is important to follow up with marketing qualified leads as soon as possible.
Tracking and measuring your marketing qualified leads doesn't have to be complicated. Freshsales gives you everything you need to manage and measure the effectiveness of your email campaigns, track who is opening your messages, and report key analytics such as your MQL to SQL conversion rates at a glance. Sign up for a free trial today to learn more.